There are more detailed guides to using Perma available on its website:
Getting Started (if you need more help understanding what Perma is and why you should use it)
Perma Link Creation (if you need help creating your first Perma Links)
Journal Editors' Guide (specifically for journal editors)
Perma responsibilities typically fall to the online editor for a given journal, but your individual journal may distribute responsibilities differently.
If you are the online editor for your journal (or other journal member who should be using Perma) and need a Perma.cc account to archive a webpage and create a Perma Link, please contact Jacob Sayward, Head of Electronic Services, at sayward@law.fordham.edu.
Perma.cc is a service for archiving publicly available websites. If an article in your journal is citing to a publicly available website, you should use Perma to create a stable archived version. By having Perma archive your website and produce a distinct Perma Link URL to include in your citation, you can ensure your readers will always be able to access a version of the website (even if the original goes kaput). See Bluebook Rule 18.2.1(d) for information about citing to archived internet sources.
Examples of citations including Perma links (from the Bluebook):
Rocio Gonzalez, Puerto Rico's Status Debate Continues as Island Marks 61 Years as a Commonwealth, Huffington Post (July 25, 2013, 9:00 AM), http://www.huffintonpost.com/2013/07/25/puerto-rico-status-debate_n_3651755.html [http://perma.cc/C6UP-96HN].
Letter from Rose M. Oswald Poels, President/CEO, Wis. Bankers Ass'n, to Elizabeth M. Murphy, Sec'y, SEC (Sept. 17, 2013), http://www.sec.gov/comments/s7-03-13/s70313-178.pdf [http://perma.cc.B7Z7D9DJ].
Creating a Perma Link/Archiving a Website
To archive a publicly available website and create a Perma Link, go to https://perma.cc/manage/create and log in with your Perma credentials. If you don't have Perma credentials, see the "Perma Setup and Contact" information to the left.
You should see a form resembling the one below. This is where you will enter the URL for the website you'd like to archive.

You will also have the option to select a folder in which your archived website will be stored. You should choose the folder for your journal.
After clicking "Create Perma Link" you will see a preview of what your archived webpage will look like on Perma. This will also include the URL for your Perma Link near the top. This URL is what you should include with your citation.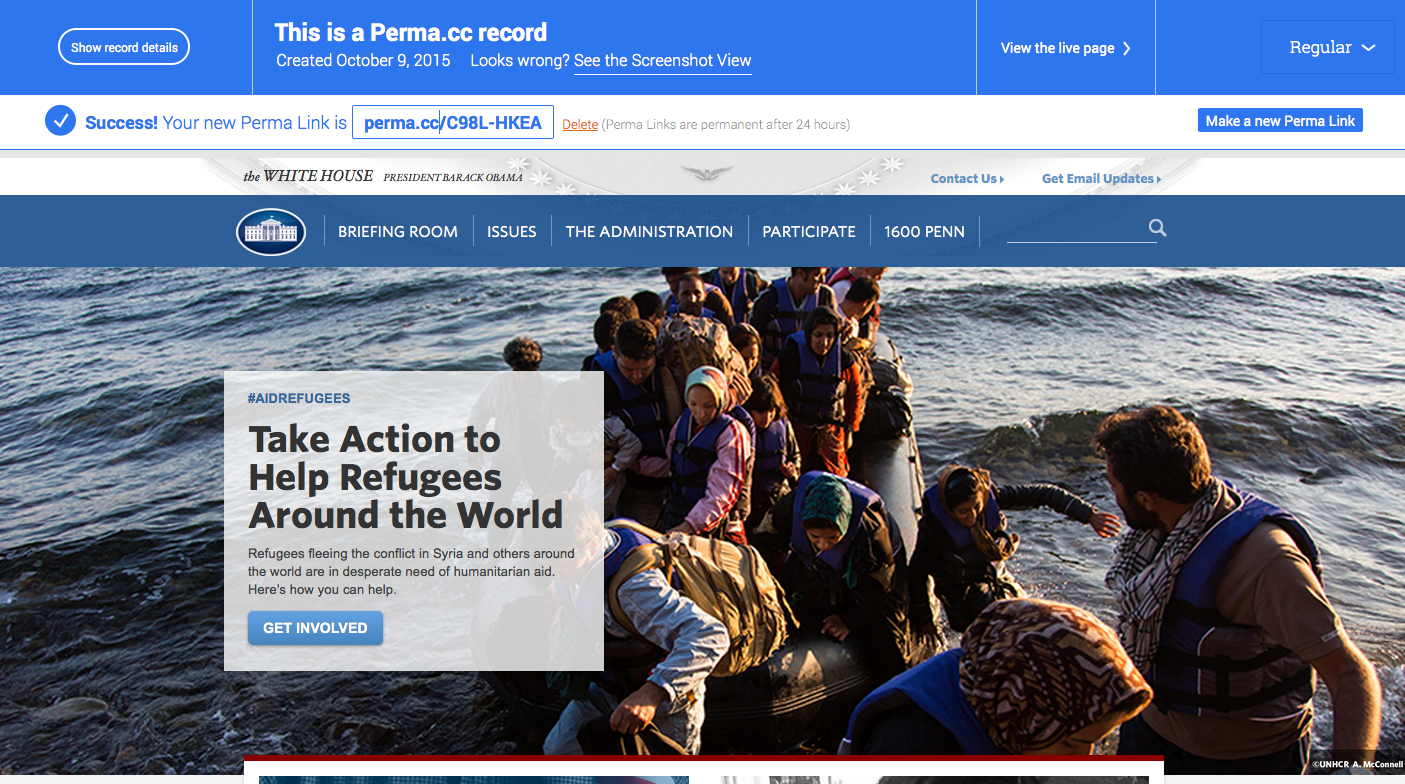 If for some reason Perma fails to capture your desired webpage, it will display the error message below. You can retry archiving it again or upload your own image of it to Perma.